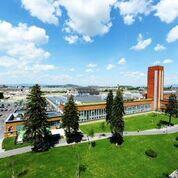 E-Value International, among SE Europe's leading Contact Center outsourcing services providers, is a member of OTE Group and Deutsche Telekom and provides, on a 24/7 basis, an end-to-end Contact Center services portfolio, ranging from customer care and help desk services to customer retention and sales development. 300 employees activate in the operational center in Brasov.
 "Our strategic plan of expanding our operations on the medium and long term constituted a strong reason  in  choosing  Coresi  Business  Park  as  the  location  for  our  offices,  because  it  allows  us  to respond  in  a  swift  and  competitive  manner  to  regional  and  international  projects  requests  for additional  work space,  to  accommodate  our  operations.    In addition  to  this,  our  corporate  values and focus on people, guide us in setting up our operations in people friendly sites. The 20,000 sq m  of  green  areas,  generous  parking  spaces  and  good connections  with  public  transportation  in Coresi Business Park, are some of the key benefits we offer to our employees in Brasov." stated Akis Gerontopoulos, E-Value International representative.
"E-Value's  decision  to  open  their  first  regional  center  in  Coresi  Business  Park  reinforces  our position  as  dominant  business  center  for  the  BPO  and  SSC  segment  in  Brasov.  We  noticed  a general  trend  of  growth  on  the  office  market  in  regional  cities,  following  the  model  of  some established  business  hubs  in  the  region,  like  Brno and  Krakow,  with  500-600,000  sq  m  of  office spaces. Today, Brasov only has 1/5 of the aforementioned figure and we anticipate that within 10 years  the  stock  of  modern  offices  will  triple  as  a result  of  new  demand  generated  by  the outsourcing market", ommented Silviu Savin, Partner Ascenta Management, developer of Coresi Business Park Brasov.
 T42 Building has a gross built area of 8,000 sq m and is part of the first phase of Coresi Business Park consisting of almost 25,000 sq m GLA of unconventional, contemporary office areas with industrial  architectural  elements.  T42  and  T39  buildings  enjoy  state  of  the  art  technical specifications and are in the process of obtaining "Very Good" BREEAM rating. Coresi Business Park has zero vacancy for the existing offices and 100% tenant retention rate, most of them already passing through at least one extension process. The refurbished offices from Phase I now host prestigious international clients.
Coresi  Business  Park  has  recently  started  construction  on  the  second  phase  of  the  project, consisting of two new modern A class, low-rise office buildings (GF+3F/5F) providing between 1,650 - 3,000 sq m rentable area per floor and totalling 18,000 sq m. (source: Coresi Business Park)