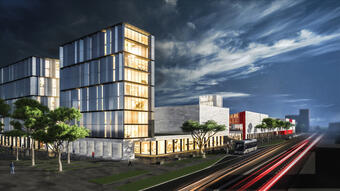 The project will feature a 147,000 sqm gross leasable area (GLA) and will include a new shopping center, housing units and office space. The first development phase, the shopping center, is scheduled for delivery in the first quarter of 2017.
The new shopping center will cover 25,000 sqm (GLA) and its tenant mix will include fashion retailers, restaurants and an entertainment area complete with a six-screen cinema multiplex. The second development phase will consist of "office and residential buildings" which will be constructed on the same plot of land as the shopping center, on the grounds of the former Infratirea factory.
The Mudura family which is behind Lotus Center Oradea decided on this new investment because the shopping center "has reached maturity". Besides this, the two shopping centers are complementary as they are located in opposite parts of the city (Lotus Center in the south east part of Oradea and the new center in the north-western part of the city close to a Kaufland hypermarket, according to company representatives.
Lotus Center Oradea has a 40,000 sqm GLA and it was built in 2002, having undergone several expansions over the years. Its tenants mix includes tenants such as Carrefour, Media Galaxy, Zara, H&M, C&A, New Yorker, Hervis and a Cinema Palace multiplex. (Source: business-review.eu)