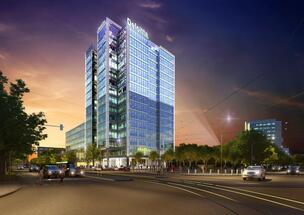 Approximately 700 employees occupy the top eight floors leased by Deloitte Romania in the The Mark's tower, totalling more than 8,500 square meters.
The building is easily accessible by public transportation and by car and has spaces dedicated for bikes and electric cars charging stations.
The Mark is a class A project, with two office buildings endowed with state-of-the-art equipment meant to create a space easy to use, sustainable and energetically efficient. The building has a smart facade that allows for natural light, as well as illumination and temperature control.

Deloitte provides worldwide audit, consulting, legal, financial advisory, risk advisory, tax and related services to public and private clients spanning multiple industries. Deloitte serves four out of five Fortune Global 500 companies through a globally connected network of member firms in more than 150 countries and territories bringing world-class capabilities, insights, and high-quality service to address clients' most complex business challenges. Deloitte's purpose is to make an impact that matters through its approximately 286,000 professionals.

Deloitte Romania is one of the leading professional services organizations in the country, providing services, in cooperation with Reff & Associates, in audit, tax, legal, consulting, financial advisory, risk advisory, business processes, technology and other related fields, through more than 1,500 professionals. (source: Deloitte Romania)