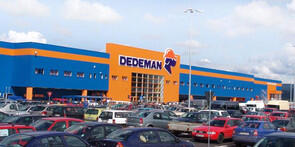 The new store's team of employees will consist of over 180 persons, with the company having launched a recruitment campaign.
The new store, which will span 15,000 square meters, will be the fourth Dedeman store in Bucharest.
With estimated sales of approximately EUR 700 M and approximately 7,500 employees, Dedeman is the biggest player on the DIY market and one of the biggest companies with private Romanian capital.
Dedeman is the successful business of two Romanian entrepreneurs – Dragos and Adrian Paval – who developed the Do-It-Yourself network starting in 1992, a network of stores for those who want to build and design their homes.
In 1994 Dedeman had 11 employees. In 2002 the retail network had 245 employees. Today Dedeman has approximately 7,500 employees.
Dedeman's main competitors are Hornbach (Germany), Praktiker (Germany), Kingfisher (England) and Leroy Merlin (France).
In November 2014 the company had 44 stores throughout the country.
Dedeman became the leader of the DIY market in 2010, the year in which it surpassed Germany's Praktiker sales-wise. In 2012 it came to have the highest number of stores too, while the Praktiker network continued to consist of 27 units.
The company has its own logistical centers and auto park. (source: nineoclock.ro)