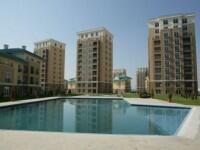 "It will be a distinct phase, separated by the other buildings with a boulevard. We will continue to invest in developing the infrastructure of Cosmopolis. For example, at this moment we are working on a new entrance to the complex and enlarging the access way to four lanes. We will enhance the commercial area at the entrance and we will also build a couple of sports terrains. Furthermore, we are working with the Romanian Patriarchy to build a church", according to Ahmet Buyukhanly, executive director of Opus Land Development.
He mentioned that Opus Land will also begin construction on its residential project in Barbu Vacarescu, on a land plot acquired this year.
"We are in the prospecting stages as of yet and that is why we don't have a lot of information to give out right now, but it will be a EUR 10 million investment for a 100-apartment project. We are looking at other investment opportunities and if one pop up we will buy more land", Buyukhanli explained.
This would be the second residential complex the developer is targeting for Bucharest, after Cosmopolis, already at 450 finished apartments. The Opus Land Development investments in Cosmopolis were started in 2006 and they reach EUR 250 million, placed in infrastructure, buildings, villas and commercial areas.
The developers sold 345 apartments in 2014, up 30 percent year on year.
"We've had an intense year sales-wise, nearly one apartment sold for each day. For 2015, we are targeting a 25 percent increase in sales", said Gabriel Voicu, director of new homes division for Coldwell Banker, manager and exclusive sales agent for Cosmopolis.
Opus Land Development is part of construction group Buyukhanli. (source: business-review.eu)