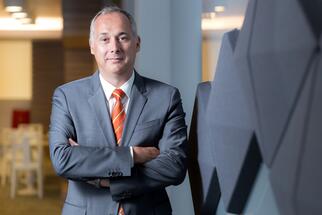 "Since 2014, The Romanian office furniture and fit-out market is experiencing accelerated growth. 2015 confirmed it and we look at 2016 and 2017 to keep doing so. The potential detected allows us the ambition to reach 20M Euros of sales this year. The delivery of a large number of Class A office space in 2016, along with the wish of many companies to relocate in new facilities and the entry of new comers in Romania offer this larger potential. Firms in the IT&C sector keep growing fast, as well as BPOs, and it generates a great dynamic for our sector." says Christophe Weller, Managing Partner COS.
Expansion plans for Bucharest and Iasi 
COS is planning to grow its team in Bucharest and expand in the longer term in Iasi.
"In 2016, we need to increase our sales team by adding at least three new persons in Bucharest and an agent located in Iasi. We have a showroom in Cluj since September 2014 and the local team has also grown to 4 persons, which is a good number to cover the Transylvania area. Next, we should set an office in Timisoara and, in the longer term, in Iasi." says Christophe Weller.
In 2015, the COS offices in Bucharest andCluj were involved in major projects such as: TELUS International new HQ at AFI Park, Schneider Electric, RINF and CITR offices at Greencourt Bldg, EON HQ in Targu Mures, HELLA Electronics in Timisoara, Yardi HQ, Yonder HQ and Lohika in Cluj, Oracle offices in Iasi and Bucharest. Major projects were also completed for Microsoft and Accenture.
The Romanian market embraces the global trends in office interior design
"As part of our efforts to keep our clients informed and offer them innovative solutions, we continuously follow new research in workplace designfrom our partners - global leaders in the office furniture industry."says Christophe Weller.
Among the global current trends which are already applying in Romania, there are three must-haves for performant office spaces in 2016:
Office design must pay attention to acoustics
Irritating noise in the open space can come from all kinds of sources: air conditioning, ringtones, traffic, nearby construction, obsolete sound-masking systems and—especially—from other people's voices.
Work environments need to be created with acoustics in mind, not only design. Without effective acoustical solutions, experts say, the negative impacts of day-to-day noise in many office environments can be significant, causing rising blood pressure and the release of stress hormones leading to negative outcomes such as anger and exhaustion.
Office design must encourage people to focus
Steelcase, global leader in the office furniture industry, has developed research that shows that 49% of people have trouble easily focusing at work. Over the course of their day, this leads to an average loss of 86 minutes of work due to distractions.
The solution is a variety of workplace environments where users can choose their best place depending on task, mood and personality. Companies need to optimize their real estate to give employees greater choice and control over how and where they work.
Office design must promote physical activity
Steelcase's recent research has found that moving throughout the day helps people stay cognitively sharp. Companies can install standing-height furniture built for collaboration or individual work and provide ergonomic chairs designed for mobility. As numerous studies have found, going on walks stimulates creativity, and so does simply standing up.
"The workplace is now considered as a key element in developing and retaining talents and boosting employee engagement. Companies are fully aware that the office space needs to be offering well-being to the employees, in order for them to perform better and feel happy at work." says Christophe Weller.
Corporate Office Solutions (COS) is a leading specialist in workplace consultancy & design, fit out, M&E works, project management and office furniture supply, for office interiors.
Founded in 1997, COS has continuously developed its range of services, becoming the first fully integrated office design & build specialist in Romania. COS has now two offices in Bucharest and Cluj-Napoca. Since foundation, COS holds the sole local authorized dealership of Steelcase, global leader in the office furniture industry. COS is also representing Interface, worldwide leader in modular carpet. During 18 years of operations, COS has delivered professional services and adequate products to more than 1,500 companies that needed to create or transform their workspaces.  (Source: COS)