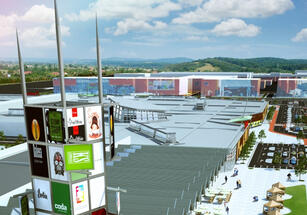 Currently the construction of the commercial centre on the former Tractorul industrial platform is 60 pct completed, with EUR 35 million being already invested in the project.
Coresi Brasov, the mall which will double the commercial spaces stock in the city, should be ready in March 2015 and will involve a total investment of EUR 60 million.
"The revenues of the commercial centre should exceed EUR 5 million yearly once it reaches its maturity in 3-5 years ", has declared Tatian Diaconu, the head of Immochan Romania.
According to a statistics made by DTZ Echinox, in Brasov there are already over 43,000 sq. m modern retail spaces. The largest project in the city is currently Unirea, with 20,000 sq. m GLA.
The first phase of the commercial centre Coresi Brasov, which will have 45,000 sq. m useful area will include the hypermarket and the commercial gallery. In the second phase other components should be also included such as the DIY store. Immochan also kept a plot of land for future commercial development.
In Brasov there are another three retail project announced, Korona mall, a commercial centre developed by NEPI and a CORA project.
The entire Coresi commercial centre will be situated on 24 hectares, with 8 hectares dedicated to the hypermarket and the gallery, 12 will be parking and 4 hectares will be used for green area. (source: wall-street.ro)