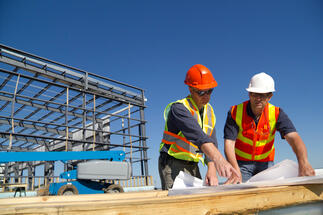 Thus, as gross series, on structure elements there were increases of 22.6 percent in major repairs and of 17.5 percent in new construction works, while maintenance and repair works decreased by 6.5 percent.
Also, residential and non-residential buildings recorded an increase by 53.9 percent and 27.7 percent and civil engineering fell by 6 percent.
As adjusted series, by number of working days and seasonality, there were reported increases on all structural elements as follows: major repairs – 25.3 percent, new construction works – 19.3 percent and maintenance and current repairs – 2.3 percent.
Also as adjusted series, the volume of construction works increased on residential and non-residential buildings by 47.6 percent and by 29.3 percent respectively.
Civil engineering decreased by 11.8 percent.
Compared to December 2014, in January, the volume of construction works decreased by 70.9 percent as gross series and by 5.4 percent as adjusted series by number of working days and seasonality. (source: business-review.eu)