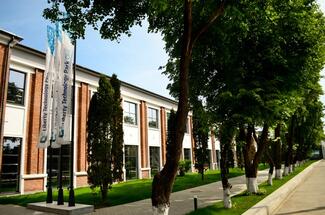 "Following the tender we decided to continue the collaboration with the company CON-A for the second phase of the technologic park too", has declared Nina Moldovan, CEO Liberty Technology Park Cluj. The construction works for the second phase started on 16th of June and will be delivered by the end of this year, offering a total of 13,412 sq. m in two buildings.
The developers of the project Liberty Technology Park Cluj say that by this moment the second phase was 30 pct leased and their objective us to deliver this phase fully let by the end of the year.
The green area of the park, the strip of water was recently completed and those over 20,000 sq. m for the sport multifunctional fields, garden and bicycle tracks are currently under development.
The technologic park hosts eight companies: Siemens, Halcyon Mobile, Recall, La Casa, Makronetz, Ecuson Studio, Spherik Accelerator and Tulemod. Those currently fully occupy the area of the first phase. La Casa restaurant, the first tenant in the leisure area within the park, has opened officially on 25th of June.
Liberty Technology Park Cluj is a technologic park which redesigns the former asset of Libertatea factory. The project is developed by Fribourg Capital run by the businessman Ion Sturza. The current investment was over EUR 10 million. (source: wall-street.ro)