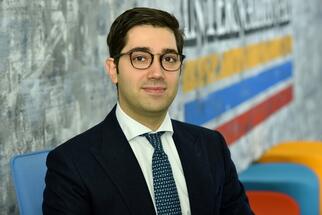 "We wish to attract foreign investors and bring new capital in Romania, and with relevant macroeconomic information we can be more credible at an international conference, when we do lobby for our country," said Ilinca Paun, managing director Colliers International.
"We have an image problem and we are not doing business development at governmental level. Therefore, we intend to contribute as much as possible to attracting companies in Romania, from players who wish to open BPO or SSC centers here to investors who wish to buy or develop buildings", added Paun.
Patrulescu took over the position of head of Strategic Analysis at Colliers International from Daniela Popescu, who joined the retail department this autumn, as senior associate.
Patrulescu has a Master's degree in international finances from Barcelona Graduate School of Economics, where he analyzed the financial crises of the emergent economies, especially the impact of foreign investments and crediting. He spent a year in Milano in the internal consultancy department of the UniCredit group, during which he worked on implementing the strategic plan of the group.
"I think the business environment in Romania finds itself at an inflection point and we will soon see a new level of dynamism. The real estate market is closely connected to this effervescence, and this is reflected in all sectors: office buildings, industrial or commercial spaces. Colliers is a company with a considerable experience in this segment and I am very excited to join such a dynamic and innovating team", said Patrulescu.
The research department at Colliers International was founded in 2009 and in its seven years of activity it conducted periodic market reports and various analyses for the clients of Colliers, from companies that counted on these analyses to enter Romania, to the most active investment funds and real estate developers. (Source: business-review.eu)