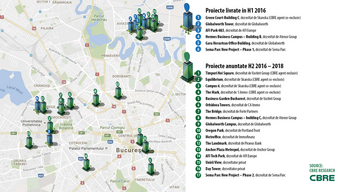 By the end of 2018, more than 900,000 sqm are announced in the main real estate development areas in Western Bucharest, Pipera and North.
In the first half of this year 155,500 sqm were already delivered within eight real estate projects.
Overall, there are nearly 300,000 sq m A class office spaces delivered or scheduled to be delivered in Bucharest in 2016, within 16 real estate projects.
Nearly half of the already delivered offices, namely 48 pct are situated in the North, within the three largest projects developed here: Globalworth Tower and Gara Herăstrău Office Building, developed by Globalworth, as well as the last building within Green Court Bucharest, developed by Skanska, with a total rentable area of 15,670 sqm.
From the total of offices scheduled for delivery by the end of this year, 68 pct are situated in Pipera, with 22 pct of the spaces included in the first phase of Metroffice project, developed by Immofinanz.
For 2017, nine real estate projects are scheduled for delivery, totalling nearly 179,000 sq.m offices.
The western area has the largest share in the new office deliveries in Bucharest, namely 34 pct, including the largest project in the area, The Bridge, developed by Forte Partners, followed by Pipera, with 31 pct., where the first two buildings within Globalworth Campus will be deliverted, and the central area, with 26 pct.
The largest real estate project in the central area, representing 68 pct of the total spaces announced for this area is Timpuri Noi Square, developed by Vastint Group, scheduled for delivery in the second quarter of 2017.
"Bucharest office market is consolidating and expands steadly at a pace that reflects the performance of the dynamic industries in Romania - such as IT, outsourcing and the financial sectors - which are the engine of economic growth", said Mihai Paduroiu, Head of Advisory & Transaction Services | Investor Leasing | Office, CBRE România.
According to CBRE, 2018 will be a dynamic year for the real estate market in Bucharest, with 433,000 sqm of office spaces to be delivered in 19 projects.
Most of them, nearly 41 pct., will be developed in West, where Skanska will deliver the first building within Campus 6 project, with a total rentable area of 22,200 sq.m.
2018 is the year for the completion of the project Business Garden Bucharest, with a total rentable area of 41,000 sq.m, developed by Vastint Group. In the end of 2017-beginning of 2018 it is also scheduled the completion of the project Orhideea Towers, with a rentable area of 36,900 sq.m, developed by CA Immo.
Overall in 2018, CBRE estimates nearly 178,000 sq.m to be completed in the West.
The North represents 23 pct of the total office area announced, with Skanska estimating the delivery of the first building within its Equilibrium project developed in Barbu Văcărescu, with a rentable area of 20,800 sq.m.
In Centre Business District (CBD) the most active projecy in construction, scheduled for delivery in the second quarter of 2018, is The Mark in Buzești area, a project developed by S Immo, with a total area of nearly 25,000 sqm. (source: profit.ro)