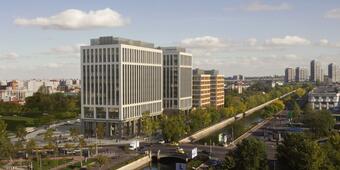 This phase also includes more than 600 parking places and the construction works are scheduled for completion in the beginning of next year, CBRE announced.
Timpuri Noi Square will include overall 100,000 sq. m of office and retail spaces, as well as 50,000 sq. m residential area.
The first two building will have ten floors and a rentable area of 12,300 sq .m and 17,300 sq. m respectively, and the third building will have seven floors and an area of 20,000 sq. m. The construction works are carried out by Danya Cebus, a subsidiary of Africa Israel Investments.
The project is developed on the 54,000 sq. m plot of the former factory Timpuri Noi.
The investment fund Interprime Properties, part of Swedish group Inter IKEA, bought in 2010 the Timpuri Noi platform in Bucharest for EUR 34.6 million. The company also owns a plot on two hectares in Orhideea area in Bucharest, where it intends to develop 40,000 sq. m rentable office area within three buildings and a plot of 48 ha in northern Bucharest, where it plans to develop mainly residential. (Source: profit.ro)