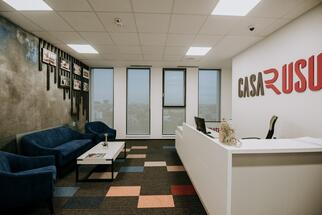 "Casa Rusu needed a new headquarter to meet the current demands, given the development and growth of the team, as well as the desire to offer our employees a modern and dynamic work experience, with relaxation possibilities. Vox Technology Park is a state-of-the-art construction, the smartest building in the west of the country, being located in an area in full development. This move marks the beginning of a new stage in our company's life, which I am convinced it will bring us new professional achievements in a modern work environment", stated Matei Stefan Gaburici, CEO Casa Rusu.
"The contract with Casa Rusu represents a positive signal for Timisoara's office market. The company is a 100% Romanian success story, which used this period to develop new strategies. Modern office projects, which have invested in maximizing office security, are and will remain among the best options for business- and work-related activities, due to circuits created and different specific measures", stated Mark Oancea, development director Vox Property Group, the developer and owner of the office project.
Casa Rusu has an experience of over 25 years and is one of the largest furniture manufacturers in Romania. With over 20 shops at a national level and an online store, the company is successfully placed in the top of public preferences, offering advantageous design solutions, tailored to their needs.
Vox Technology Park has a leasable surface of 26,600 square meters and was delivered in Timisoara after a EUR 30 million investment. The project offers unique facilities at a national level, such as the possibility of biometric identification, and competitive advantages for employees, such as dedicated spaces and showers for cyclists, food court, gym, commercial and service spaces. (source: Vox Property Group)