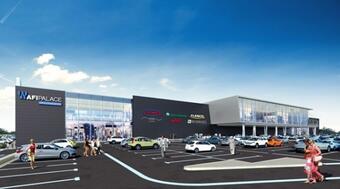 AFI Brasov shopping mall is located in the Brasov city centre and includes 45,000 sqm of leasable retail area and 25,000 sqm of leasable office area. The project is currently under construction and planned to inaugurate during 2018. The shopping mall will include high and medium high international fashion brands, services and a large entertainment and food offering, thus positioning the project as the dominant mall in Brasov.
"AFI Brasov represents an important project and milestone in the company's development strategy and we are glad that, with the signing of this agreement, it is starting to take shape outside of the blueprint. We were looking for the perfect retail chain to partner with us and anchor the shopping mall in the City Center of Brasov, and Carrefour Romania represented the ideal partner to help us develop the most exciting mall in the region and the future attraction point of the city. At this moment are finalizing the mix of tenants for the project that will enhance the shopping experience for the inhabitants in Brasov and for the 1.6 million tourists that are visiting the area annually, with a blend of brands for all preferences, in one commercial space", said David Hay, CEO AFI Europe Romania.
"This agreement marks the first professional collaboration between Carrefour Romania and AFI Europe Romania and we strongly believe that AFI Brasov will be the leading shopping mall in Brasov County. We are pleased to be part of this project that will strengthen Carrefour's presence in the area. Carrefour thus continues its expansion plans on all formats and restates its trust in the growth of the Romanian market", said Anca Damour, Property Division Director of Carrefour Romania.
AFI Europe will develop in Brasov a shopping mall with a gross leasable area (GLA) of 45,000 sqm spread over three levels, accessible from two main entrances, connected by two main corridors. The 1st floor will host the food court and interactive zone while the entertainment area will be located on the 2nd floor, which will also include the cinema. Visitors will enjoy a unique feature, a large leisure green terrace viewing the Carpathian Mountains that can host different events and activities for families and tourists, togheter with a medium high to high offering of brands that are not present in the area. The project will be constructed to be LEED Gold Certified.
This is the third shopping mall to be developed by AFI Europe in Romania, after AFI Cotroceni (81,000 sqm GLA) in Bucharest, the largest and most dominant shopping mall in Romania and among the leading shopping malls in the CEE region, and AFI Ploiesti, which has a gross leasable area of 34,000 sqm.
In addition, the company will also create a class A office project on top and part of the mall in Brasov, with a leasable area of approximately 25,000 sqm that will be developed in two phases. (source: business-review.eu)