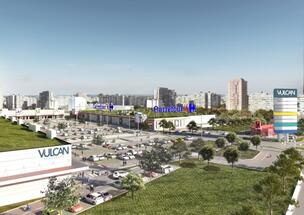 The project has a 25,000 sqm GLA and it is branded as Bucharest's first 'value center'. "The value center concept is adapted to the Romanians' consumption trends (…). A value center targets average income shoppers and satisfies their need to find all the products they are looking for in the same location. Such a commercial park brings together several types of stores offering quality products at accessible prices," according to the shopping center's representatives. "(…) I am convinced that this concept will prove successful and will set the basis for a new shopping model (…)," said Tiberiu Smaranda, executive director New Europe Property Investments.
Vulcan Value Centre is anchored by a Carrefour hypermarket which will cover 9,600 sqm and will feature a 2,500 sqm shopping gallery. The entire center will have more than 50 stores and it is presently 95 percent leased, according to the developers' representatives. Other tenants include H&M, C&A, Hervis, Noriel Bebe, Animax, Domo, Deichmann, Lems, Jysk and DM.
Works on Vulcan Value Centre started in February and after its completion, NEPI will increase its commercial space portfolio to approximately 330,000 sqm (GLA). In Romania NEPI manages the following shopping centers: Ploiesti Shopping City, City Park Constanta, Promenada Mall Braila, Galati Shopping City, Retail Park Auchan Pitesti, Deva Shopping Center, Severin Shopping Center and Brasov Strip Mall. It also owns the Floreasca Business Park, The Lakeview Bucuresti and City Business Centre Timisoara office projects. On October 16 NEPI will open a new shopping center – Shopping City Targu Jiu which it says will be the first modern shopping center in the Gorj County.
These two shopping centers – Vulcan Value Centre and Shopping City Targu Jiu – are the only two modern shopping centers to be opened this year in Romania. According to a previous JLL report, their combined surface, 62,000 sqm, is the lowest annual level reported since 2005.
On the other hand, three large surface shopping malls will be delivered in Bucharest and outside the capital starting next year. 2015 will see the opening of NEPI's 70,000 sqm Mega Mall in Bucharest and that of Coresi Brasov (45,000 sqm) developed by Immochan.
Sonae Sierra and Caelum Development are working on another 70,000 sqm shopping mall in Bucharest which is planned to be completed in 2016. (source: business-review.eu)