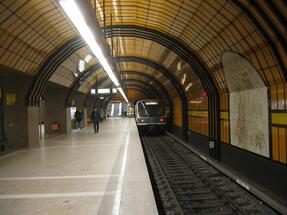 Over 600,000 people use the subway in Bucharest every day. The metro runs at full capacity during rush hours when commuters have to wait one or two trains to pass before they can finally get on a train. This happens most often at the Victoriei and Unirii subway stations, where many commuters also change trains.
A total of 22 trains will run on the M2 line, which connects the Pipera office district in Northern Bucharest to the Berceni residential area in the South, at every three minutes. Metrorex has added one more train on this line, which is the busiest metro line during rush hours. The average number of commuters on this line went up by more than 10% from 2012 until 2015, according to Metrorex's annual report.
Metrorex also added two extra trains on the M1 line, which links Dristor to Pantelimon and two trains for the M3 line, which connects Preciziei to Anghel Saligny. Thus, a total of 21 trains will run on the M1 line, and 15 on the M3 line.
Metrorex also said that it would monitor the trains so that they will not arrive in the stations simultaneously, and that it will change the trains' schedules on M1 and M3 lines. The new programs will come into effect on December 1, and will decrease the waiting time in the stations.
Moreover, starting October 31, Metrorex and Subway Police employees will assist in guiding the flow of commuters in stations Victoriei Square 1 and 2, and Unirii Square 1 and 2 during rush hours.
Metrorex also plans to update the regulations in force regarding the measures to be taken in case of major changes in underground traffic, related to cases such as abandoned package, terrorist alarm, suicide/attempted suicide, and first aid for passengers.
The Bucharest subway usually gets crowded during rush hours, but two events that occurred in the past weeks have caused a real chaos in the underground.
Last week, on October 26, the platforms at Victoriei and Unirii stations (on the M2 line) got extremely overcrowded, and so did the passages between the metro lines, due to a malfunction at one of the trains. More specifically, the underground traffic was affected due to a faulty door.
The incident came one week after the commuters faced the same level of overcrowding in Victoriei, Unirii, and Romana stations. This time, the problems appeared after three women fainted and needed medical attention. At that time, Metrorex said that the trains don't leave the station until those who experience health problems get medical help.
Almost 175 million people took the subway in 2015, or an average of 15 million per month. (Source: romani-insider.com)