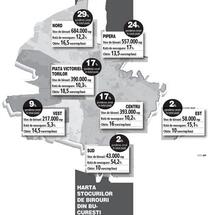 Otherwise put, in these two areas there are approx. 200,000 people working in the office buildings, considering that an employee has an average space of 10 sq. m. The most busy office area in Bucharest is the north, with approx. 684,000 sq. m, including the buildings in Barbu Văcărescu - Calea Floreasca area, the hottest spot on the Bucharest offices map, where buildings such as Sky Tower, Floreasca Park or Nusco Tower are situated.
Moreover, in this area are also some of the biggest rents, of approx. EUR 16.5/sq. m/month, the average vacancy rate being of approx. 12 pct.
Pipera is also a busy area, with approx. 557,000 sq. m, but the rents are smaller, of EUR 13.5/sq. m/month, also considering that the vacancy rate is higher, of 17 pct.
The downtown Bucharest and the area Piaţa Victoriei -Aviatorilor include over 780,000 sq. m of offices.
The buildings in Piaţa Victoriei - Aviatorilor, including Tower Center or Charles de Gaulle Plaza, are also the most expensive, with average rents of EUR 18.5/sq. m/month, the average vacancy rate being of 10 pct.
The area with the lowest vacancy rate, of approx. 5 pct., is the western area of Bucharest, with business parks such as West Gate or Sema Parc. In this area are included 9 pct. of Bucharest offices, the average rent being of EUR 14.5/ sq.m/month.
The centre-western part of Bucharest, including the Orhideea area, Basarab bridge and the surroundings of the metro stations Grozăveşti, Petrache Poenaru and Politehnica, is also becoming the new office pole, as several developers, including CA Immo or Forte Partners, have announced to develop new office buildings on lands in this area.
The less attractive zones in Bucharest for the office developers are the east and south of the city, with only 4 pct of the total office stock in Bucharest (2.3 million sq. m).
Moreover, those areas also have the largest vacancy rates, from 15 pct in the eastern part to more than 54 pct in the south. In this context, the rents are the lowest in Bucharest, of EUR 10.sq. m/ month. (source: zf.ro)