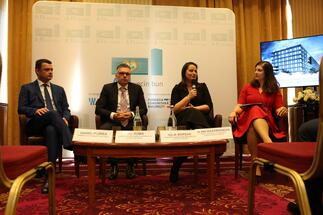 The projects proposed by the Parada Foundation and 4 KIDS Initiative Group are the two winning projects, which together will receive total funding of over 70,000 lei for the implementation of the ideas.
The "Be a good neighbor" Community Fund was launched in November 2017 and addressed NGOs and initiative groups in order to collect the implementation of project ideas that would contribute to urban revitalization and revitalize the community spirit. To be funded, a project had to take place in areas near the newest business park AFI Europe Romania is building in Bucharest, AFI Tech Park, on Tudor Vladimirescu Boulevard no. 29.
"The first year process was thought of as a pilot program to see if there are incipient initiatives that can lead to the development of the community spirit in the area but also to test and stimulate the interest of various associations and groups for interventions in the area to bring added value and chances of sustainability", says Tal Roma, Business Development Manager AFI Europe Romania.
"The experience of this project has shown us that there is much initiative and desire on the part of the people to do something in the city. As evidence, all three initiative groups that joined the program went further into the final stage, one of them being among the winners. Bucharest wants to do things and make good changes in the city and we are glad that through "Be a good neighbor" we help them to make their ideas a reality that we can all enjoy", says Iulia Borsan, Corporate Marketing Manager AFI Europe Romania.
The registration and selection process within the fund was carried out in several stages: filing online project ideas (8 November - 10 December 2017) followed by selection of ideas, submission of full projects and interviews with jury members (17 January - 9 March 2018) . Winners will have a period of nine months until November 2018 to implement the projects.
The selection of winning projects was carried out with the help of an independent jury, consisting of people with experience in urban planning, urban planning and regeneration, community, social and civic involvement.
You can find further details about the fund on the page www.afitechpark.ro/afivecinbun.
(source: AFI Europe Romania)