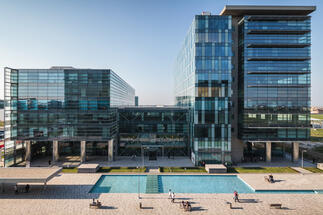 Global City Business Park, one of the main office projects in the North Area of Bucharest, announces a new contract with Bergenbier – part of Molson Coors, a Canadian brewing company.
"Starting this month, the employees of Bergenbier Romania will enjoy a new 1,200 square meter headquarters in Global City Business Park", said Ivana Bozjak, Partner and Head of Real Estate at Global Finance.
Thus, at the beginning of 2015, the occupancy rate of Global City Business Park increases by 10% compared to the same period of last year and reaches 60%. The increase happened due to the expansion of current tenants and new contracts signed during 2014, including those with Honda Trading and Ninebot.
At this moment, Global City Business Park has 29 tenants and the biggest occupiers are Michelin, Coca-Cola HBC Romania, Total Soft, Telus, Euroins, Ford, Bergenbier, Cycle and Monsanto.
In addition to the office premises, the ground floor of the two buildings provides a diversified offering of retail and services. Thus, over 2,500 people who work inside Global City Business Park have daily access to a self-service restaurant, business lounge, coffee shop, beauty salon, pharmacy, two ATMs and an Inmedio shop. Moreover, the project has over 840 parking spaces, in addition to those that can be found outside.
At the beginning of this year, Global City Business Park obtained the LEED Gold certificate under the LEED Rating System for Existing Buildings: Operations and Maintenance program, which targets the certification of projects that exist on a shared site under the control of a single entity.
Therefore, through this certificate, Global City Business Park becomes a benchmark in the field of green buildings. The entire process of obtaining this famous distinction was deployed and managed by Colliers International, one of the first real estate companies in Romania with accredited professionals to offer green certification advisory services.
"The LEED Certificate - Leadership in Energy & Environmental Design is the best known international standard. This accreditation offers all our clients the warranty that they operate in a building that respects the highest environment standards, that all operations performed here are consistent with the new rules and also, that all systems and procedures are streamlined.  Nevertheless, all these advantages are reflected in the quality of our office spaces and the related operating costs", said the Global Finance spokesperson.
The process of obtaining the LEED certification took place in over a year and included thorough technical audits as well as educational and CSR campaigns. In the future, with the help of the LEED certificate, tenants of Global City Business Park will acknowledge a significant reduction of costs as well as an improved quality of the services they benefit from.
Situated in the Northern area of Bucharest, Global City has a built surface of 56,000 sqm and a total class A rental space of 51,000 square meters spread over two buildings.
Moreover, the project has an underground area of 28,000 square meters, where 844 parking spaces can be found, in addition to those existing outside. The project started in October 2007 and was fully completed in February 2010.
Global City Business Park currently has 29 tenants, and most of the leased area is occupied by companies such as Coca-Cola HBC Romania, Michelin Romania, Total Soft, Call Point, Telus, Euroins, Ford, Cycle, ICAP, Quintiles, Daewoo and Monsanto. (source: Global City Business Park)