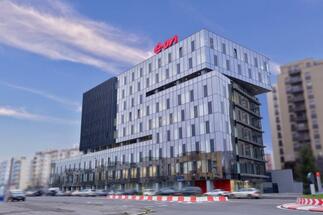 The building, with nine floors and 160 parking spaces, currently accommodates approximately 700 employees of the operating companies of E.ON in Romania. The building has office spaces, meeting rooms, conference rooms, office activities related facilities, a cafeteria and a café.
'' The investment started in 2010 and was completed in mid-December this year. Project development funding was provided by the Romanian Commercial Bank and investment for the financing came from CEC Bank, '' said Remus Aurel Benţa, the group owner.
Benţa Office Building's design was carried out by the company Westfourth Architecture together with teams from Popp & Asociaţii and MC General Construct. The general contractor was the company Bogart and subcontractors were Contranscom Benţa (part of the Benţa group, which became insolvent by its own request at the end of January 2014) and LSG Group.
'' By moving to new premises we intend to increase the operating companies' business efficiency, but at the same time we could say that we reconfirm the city of Targu Mures as the operational centre for coordinating the activities of E.ON companies. Relocation is all the more significant when it is achieved in a year of special significance for us, being the one in which we celebrate a decade of presence on the energy market in Romania", said Frank Hajdinjak, CEO of E.ON Romania. (source: zf.ro)