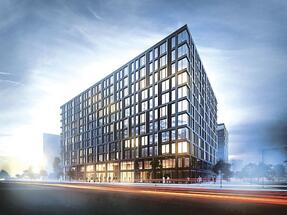 BCR said it had been analyzing in the last year several real estate projects, considering that its activity is carried out through 15 central HQs.
The lender added that it will consolidate its banking and subsidiaries operations in two buildings developed by Forte Partners. This will mean that half of the employees will continue to work in the current HQ in Calea Victoriei, while the rest will move to THE BRIDGE.
"It was a long and complex project and we are glad that we have moved forward with the consolidation of the central functions of the bank," said Adriana Jankovicova, CFO of BCR, in a statement.
The construction works on THE BRIDGE office project are set to be finished in September 2017, according to the developer's estimates.
BCR was assisted by real estate consultancy Knight Frank Romania and law firm NNDKP on the process of choosing a new HQ. (source: business-review.eu)