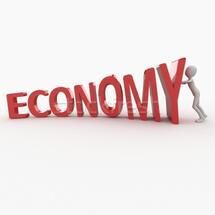 'At present, Romania is in its best situation over the last 6-7 years, since the beginning of the crisis (….). I think that they already feel a different level of general stability. Romania is on a trend which seems more stable than that of the last ten years' stated on Tuesday night Aurelian Dochia, in a conference organised by the Romanian-German Commerce Chamber.
According to him, Romania managed to pass successfully through a programme of stabilisation which included austerity measures and which could be considered a success at European level.
According to Dochia, Romania's economy continues to present risks connected to internal and external factors. Among the internal factors which could generate risks, Aurelian Dochia mentions the possible changes at political level, the interruption of the agreement with IMF which, in a certain foreign way may increase the vulnerability of the Romanian economy, hasty measures of economic policies, such as the reduction of tax, which, although should stimulate growth risks to produce imbalances in the budget and instability.
The risks connected to external factors taken into consideration by Aurelian Dochia are the geopolitical tensions connected to the conflict in Ukraine which weaken the trust of investors and deteriorate the perspectives of growth in Europe, the continuation of the Greek crisis, as well as the consequences of the measures of economic policies taken by the big economies of the world – the US, Japan and China.
As regards the business environment, the economist considers that this is little favourable. The companies in Romania complain about the difficulties in accessing the necessary factors for the expansion of the business, especially finances, qualifications and energy, the level of the taxes and the inefficiency of the fiscal administration, as well as serious problems with corruption and the political instability.
For the period to come, Aurelian Dochia estimated economic growth based on the advance of the internal demand supported by growing salaries, moderate inflation and the growth of the number of work places. After two years of contraction, public investment and private investment are expected to come back. At the same time, it is expected to have a growth of the absorption of European funds and attractive tax. Exports continue to grow, but in a slower rhythm, while the growth of imports will surpass the exports – the contribution of foreign exchanges to the GDP will be slightly negative. At the same time, ' the macroeconomic balances are kept' the analyst considers.
On the other hand, the EU has a growing deficit which seems to be persistent, Aurelian Dochia considers. According to him, there is the perspective that the annual rhythm of growth in the majority of the EU economies be under 2% for a long period, especially due to the fact that many countries have high levels of public debt. (Source: actmedia.eu)