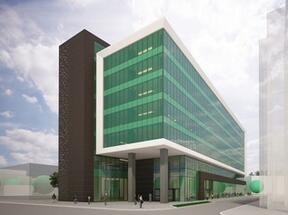 With an average rent of EUR 10-12/sqm/month, the contract could reach more than EUR 1.6 million annually, but this kind of agreements are usually signed for at least five years, so the transaction exceeds EUR 8 million, according to ZF calculations.
The rented area offers enough space to accommodate at leat 1,300 employees.
Considering that last year Amazon had nearly 335 employees in its development centre in Iaşi, the company could hire this year more than 1,000 people in its centre in Moldova.
Amazon has in plan to recruit this year thousands of persons in Europe, including in its development centre in Iaşi, considering that the American giant intends to expand its operations on the European markets. In 2015, Amazon created more than 10,000 new working places in Europe.
Iulius Group, controlled by Romanian entrepreneur Iulian Dascălu, will complete in the first half of this year two office buildings within the project Palas Iaşi - United Business Center (UBC) 5 and 6 – increasing with 60 pct, the office area and accommodating around 2,100 employees. (source: zf.ro)