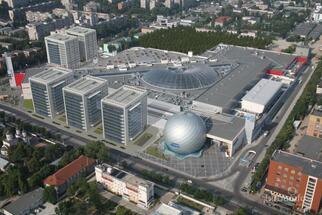 The EUR 220 million financing agreement is a record for the local real estate market in recent years. "The process was a real challenge considering the financing value, and the facts that three major banks are involved and the money is destined for a project in Romania," said David Hay, CEO of AFI Europe Romania. The deal proves that it is possible to secure large financing for good projects by experienced developers, he added.
AFI Palace Cotroceni, which has a leasable area of 81,000 sqm, was opened in 2009. Today it is still the biggest and most important asset in the developer's local portfolio. Financing for the project was secured a year before, with the developer signing a EUR 234 million eight-year loan with the former Hypo Real Estate, now Deutsche Pfandbriefbank. The total investment in the project stood at around EUR 300 million.
The mall posted a net revenue increase of 6.7 percent in Q1 2014, to EUR 7.3 million. The owners estimate that revenues will stand at EUR 29 million at the end of the year, similar to the result last year. In 2013, AFI Europe reported a EUR 28.7 million net income, up 6.5 percent y-o-y.
The company also developed the AFI Palace Ploiesti shopping mall (valued at EUR 64.2 million in September 2013) and is currently building the 63,000 sqm AFIPark office project next to the Cotroceni mall. It also plans to start work on two more retail schemes – AFI Palace B. Noi in Bucharest and the AFI Palace Arad retail park. Expanding into residential is also on the developer's radar, Hay told BR in an interview earlier this year.
AFI Europe has been active in Romania since 2005. The company is part of AFI Properties, which is present on eight CEE markets. (source: business-review.eu)