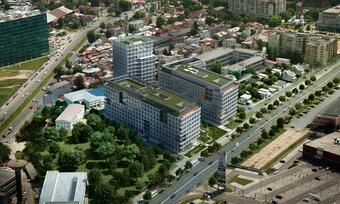 AFI will begin the construction of AFI Tech Park 2 next year after finalizing the construction of the first building in the AFI Tech Park office complex at the end of June, valued at 29 million euros.
Currently, AFI Tech Park 1 has reached a 60% occupancy rate, reaching 75% by the end of the year, and to be fully occupied in the first quarter of 2019.
Among the companies that rented space include those in the IT, mostly engineering and automotive sectors.
AFI Tech Park is a Class A business park with a leasable area of 56,000 square meters, located near the center of Bucharest. The business park includes two low-rise office buildings and an office tower that will have green spaces set in a central garden. (source: profit.ro)