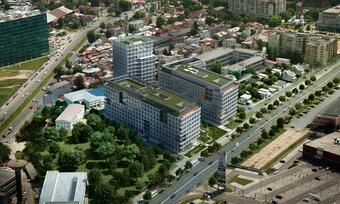 EUR 9 million in 3 months representing an 8% increase compared to Q1 2017. The number of visitors to AFI Cotroceni increased to 56,000 visitors per day during Q1, a 13% increase compared to Q1 2017, resulting mainly from the expansion of the Zara shop to a 4,000 sqm store and Peek&Cloppenburg which opened end of last year. Consequently, AFI Cotroceni retailer's sales (Turn-Over) increased as well by 6% compared to Q1 2017.
AFI Cotroceni was valued last year at EUR 501 million.
AFI Ploiesti shopping mall of 34,000 sqm GLA retailer's sales (Turn-Over) rose by 11% to over LEI 65 million compared to Q1 of 2017. The number of visitors is over 15,000 shoppers per day and the occupancy rate of the shopping mall in Ploiesti remains steady at 99%. Due to the good results an additional expansion is currently planned for the shopping mall in Ploiesti.
Office Project AFI Park, 70,000 sqm GLA with a projected yearly income of EUR 13 million is leased 99% and the value of the 5 office buildings is EUR 165 million according to the valuation performed in 2017.
"Q1 2018 has once again shown continuous growth, in all parameters such as a 12% increase in NOI to EUR 13.6 million in 3 months compared to Q1 2017, increased number of visitors in the shopping malls, new office leases in AFI Tech, expansions of the existing shopping malls' GLA and launching sales in our first residential project AFI City. Our overall occupancy in the income producing assets is 99%. In addition, we have 3 diversified ongoing projects under construction; AFI Brasov mall & offices, AFI Tech Park offices which are close to 40% pre-leased and AFI City Residential. We continue to maintain our interest for new opportunities, whether developments of new shopping centers or office projects," says David Hay, CEO AFI Europe Romania.
The construction works on AFI Brasov are advancing and the mall and offices will open during 2019. The mall will spread on an area of 45,000 sqm GLA and will include 200 shops and retail units. Raising above the mall 2 class A office buildings shall be constructed totaling 25,000 sqm of GLA.
In addition, in the office segment, construction works for AFI Tech Park 1 in Bucharest are to be finalized this month and the pre-lease is close to 40%. The first office building's tenants will move in during August 2018. AFI Tech Park 1 features 20,000 sqm GLA office space and 2,000 sqm of retail area (including world class fitness club, canteen and Quick Service Restaurant "1 Minute"), efficiently spread over 8 above ground floors serviced by two underground parking levels. AFI Tech Park 1 is Pre-Certified LEED Platinum.
During Q1 AFI Europe Romania has launched the sales of its first residential project in Romania; AFI City, located in Bucurestii Noi. As phase I, two residential buildings consisting of 190 apartments, 16,000 sqm of built up area are planned to commence construction by the end of this month. AFI City was awarded pre-certification as a Green Certified Project by the Romanian Green Building Council.
AFI Properties, the parent company of AFI Europe, has published its Q1 2018 financial reports, registering a NOI of 23 EUR million, up 17.5% in term of NIS currency.
AFI Properties through AFI Europe is under construction in the CEE and SEE markets of 130,000 sqm of commercial projects including 4 office projects in 3 countries and AFI Brasov Mall of 45,000 GLA currently under development in Brasov Romania.
Once completed during 2018-2019 the new commercial projects will generate approximately additional yearly NOI of EUR 25 million. In the residential segment AFI Europe is developing 1,000 residential units across Serbia, Poland, Latvia and the Czech Republic.
AFI Properties owns and manages close to 500,000 sqm of commercial properties. (source: AFI Europe Romania)