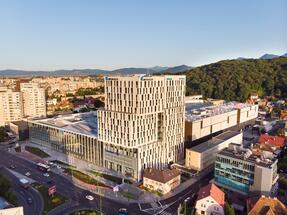 During the last 2 years, AFI EUROPE ROMANIA invested in implementation of various procedures validated by today's official accreditation and currently the company takes the next step in joining officially the ranks of the healthiest working environments on the Romanian office market. The WELL Health-Safety Certification is an evidence-based, third-party verified rating for all new and existing buildings focusing on operational policies, maintenance protocols, stakeholder engagement, and emergency plans to address a post-COVID-19 environment now and into the future.
"The trend of returning to the office among tenants is becoming clearer every passing day. As market leaders, it is our responsibility to offer our tenants and business partners the golden standard for safety and comfort. Therefore, we are constantly concern, improving the work environment provided in our office projects. This certification obtained for the entire Romanian office portfolio is the proof that our efforts are getting the best results and we are able to provide a health and safety work environment to all our tenants", says Emma Toma - Head of Office Division, AFI Europe Romania.
WELL Health – Safety matters was created in response to the COVID-19 pandemic and consists of operational interventions that can be made to help mitigate its spread across five key themes: Cleaning and sanitization procedures, Emergency preparedness programs, Stakeholder engagement and communication, Health service resources and Air and water quality management.
In order to support this program, AFI Europe implemented the Global Plasma Solutions air system (GPS), since it is proven that poor air quality impairs our function and performance to a level of 40%. GPS is using Needlepoint bi-polar ionization technology, a patented method enabling highly efficient air purification.
The upgrade has been introduced to all the group's buildings over Europe, including Romania, and pioneered the first modern air purification system through ionization.
The WELL Health-Safety Rating provides a centralized source and governing body to validate efforts made by owners and operators. It leverages insights drawn from the IWBI Task Force on COVID-19, in addition to guidance on the spread of COVID-19 and other respiratory infections developed by the World Health Organization (WHO), U.S. Centers for Disease Control and Prevention (CDC), global disease control and prevention centers and emergency management agencies, as well as recognized standard-making associations such as ASTM International and ASHRAE, and leading academic and research institutions, as well as core principles already established by IWBI's WELL Building Standard, the premier framework for advancing health in buildings and spaces of all kinds.
"The WELL Health Safety Rating earned for the entire AFI Europe office portfolio complements the green certifications already awarded for these buildings and lend towards obtaining measurable data regarding building performance and occupant health and safety simultaneously. Achieving WELL Health-Safety demonstrates AFI Europe commitment to the health and wellbeing of people – keeping both tenants and building management staff safe and healthy, while providing a great office space experience", adds Oana Stamatin, ESG Chief Officer CEE & Romania within Colliers.