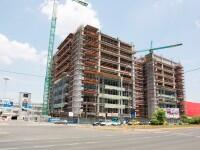 The loan, from Bank Leumi Romania, is designed to help with the completion of the fourth phase of AFI Park office project in Bucharest.
AFI Park 4&5 which totals 32,000 sqm (GLA) of "Class A" LEED Gold office space spreads over 12 floors of offices served by two underground parking levels with 300 parking spaces. The ground floor will provide retail spaces. With a floor plate of 3,000 sqm, AFI Park 4&5 are designed for multinational IT&C and BPO companies. The buildings will allow 24/7 continuous operations for its tenants.
Construction on the buildings started in April 2014 and are planned to be finalized and handed over to the tenants in January 2016.
AFI Park consists of five Class A office buildings, with a total gross leasable area of over 70,000 sqm, and together with AFI Palace Cotroceni (81,000 GLA) situated in its vicinity it features the largest complex of retail and business in Romania and one of the largest in the CEE region, according to company data.
All three office buildings of AFI Park which were delivered are fully leased. AFI Park 1 has its spaces occupied by companies such as Microchip, Cameron and Sparkware Technologies, while AFI Park 2 is fully leased to Electronic Arts. AFI Park 3, which was finalized at the end of last year, is entirely occupied by TELUS International and Endava Romania.
AFI Park 1 and AFI Park 2, the project's first two buildings, are presently valued at EUR 28 million and EUR 27.5 million and are the first office buildings in Romania to obtain the LEED Gold Core & Shell Certification, according to company representatives. The additional office buildings in AFI Park are also in process of being certified as LEED Gold.
In October 2013, AFI Europe inaugurated AFI Palace Ploiesti, following an investment of over EUR 50 million. The shopping mall offers a total gross leasable area (GLA) of 33,000 square meters spreading over two retail floors occupied by 100 national and international brands, including more than 7,000 sqm of entertainment.
In July 2015 AFI Europe has signed an agreement to purchase a 40,000 sqm plot in the City Centre of Brasov for the development of a 45,000 GLA shopping mall and 11,000 GLA office project.
In addition, AFI Europe Romania has two mix use projects to be developed in the near future on the company's 80,000 sqm land plot in Arad and 148,000 sqm land plot in Bucurestii Noi district 1 of Bucharest.
In the office segment, AFI will develop AFI Business Park Bucharest, a 50,000 sqm of GLA class A business park to be located in close proximity to the J.W. Marriott hotel and the Romanian Parliament in Bucharest's district 5. The business park will comprise of 2 low rise office buildings and one office tower, with ample green areas, a high tech/campus style environment in an urban complex with a central plaza and gardens. (source: business-review.eu)