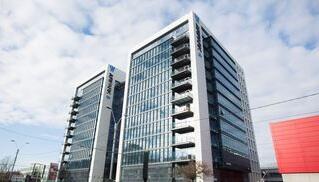 "We believe in creating strong and long lasting partnerships with our tenants by answering their requirements, offering superior technical specifications and constantly investing in upgrades to their spaces. With this new addition to AFI Park 4&5, we are getting closer to leasing out the building and achieving a 100 percent occupancy rate in the entire AFI Park office project," stated David Hay, CEO of AFI Europe Romania.
Telus Internaional, providing BPO services, will join Cameron, SII Romania, ORTEC Central & Eastern Europe, FotoNation a TESSERA company and VEEAM Software in the newest office building of the AFI Park project.
AFI Park 4&5 (32,000 sqm) represents the fourth phase of AFI Park, an office project in Bucharest that consists of five Class A office buildings totaling 70,000 sqm of GLA. The office development, linked to AFI Palace Cotroceni shopping mall (82,000 GLA), is spread over 12 floors of offices served by two underground parking levels and a ground floor that hosts retail spaces.
The first three buildings of the project (38,000 sqm) are fully leased, while the latest addition, AFI Park 4&5, completed in Februar this year, has reached 70 percent.
The company's portfolio also includes a 33,000 sqm shopping mall in Ploiesti and various projects under development. AFI Europe Romania is currently planning for a development in the City Centre of Brasov Romania of a 45,000 sqm GLA shopping mall and 20,000 sqm GLA office project.
In the office segment, AFI will develop AFI Tech Park, a 50,000 sqm of GLA Class A Business Park located in close proximity to the J.W. Marriott hotel and the Romanian Parliament. (source: business-review.eu)