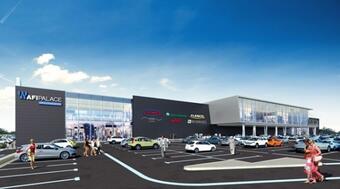 The company is already in advanced negotiations with several retail chains for the anchor hypermarket of the mall scheduled for delivery in the 4th quarter of 2017.
"AFI Palace Braşov is one of the most important projects of AFI Europe in Romania. We completed the land acquisition and we are currently negotiating for the hypermarket space with the main chains in Romania. We expect to be able to announce our new partner in the following weeks", said David Hay, CEO AFI Europe Romania. "We are now focusing on the setting of the perfect fix of shopping and fun, in order to offer a complete experience both to Brasov inhabitants and tourists visiting the city. The high interest of the retailers for this project makes us confident it will be one of the most interesting shopping centres in the region and the leader mall in the city", added David Hay.
The commercial centre of 45,000 sq. m, to be developed in the business district of Brasov (Centru Civic), will include two floors. A unique feature will be the large terrace overlooking the Carpathian Mountains.
The project will be built according to the necessary standards for receiving the green certification LEED Gold. (Source: zf.ro)