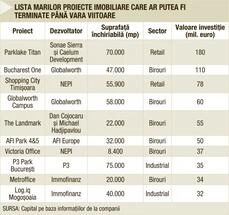 Out of the ten largest real estate investments to be completed by August 2016, only two projects will be delivered this year and only one is built outside Bucharest and its outskirts. Four of the ten projects identified by Capital are in an incipient construction phase. It is interesting that seven of the ten projects were designed in the last years of crises, the rest being projects from the boom period, re-adjusted to the new market reality. They are all though part of a new generation of buildings delivered in the beginning of this new real estate cycle.
The list made by Capital is topped by six office projects, with a total cost of EUR 346 million. The ten buildings included in these projects will have an area of approx. 188,000 sq. m and will host approx. 19,000 employees.
Even if NEPI continues to expand the office project The Office in Cluj-Napoca, and Iulian Dascălu the one in Iaşi, also preparing a new one in Timişoara, the secondary cities are not a priority for most of the developers. The large business centres are still built in Bucharest, in the Romanian "City", defined by Barbu Văcărescu Blvd., Şoseaua Pipera and Dimitrie Pompeiu Blvd . Only in this area there are different construction phases of seven office projects, to be fully or partially completed next year.
The company Globalworth, owned by the businessman Ioannis Papalekas, controls most of the buildings in this area. In few months the developer will deliver to the tenants the office tower Bucharest One, where Vodafone will occupy over 30 pct., and by next summer they intend to complete as well the first two towers within Globalworth Campus, including the building to be occupied by Telekom. The large construction sites in this area also include the first office building within Metroffice, the project of Immofinanz which aims the expansion and modernization of Iride Park.
After delivering to the tenants the first three office buildings within AFI Park, AFI Europe works extensively at the last two buildings of the project, which are scheduled to be delivered by the end of the year. This business complex's success motivates other investors to start projects long time announced in the central-western part of Bucharest.
However, the hottest point on the offices map, considering the high level of rents, remains Piaţa Victoriei. Here, NEPI bought the Oromolu villa, constructed between wars by a former BNR governor, and a near-by land of 4,500 sq. m. The developer started the works for a small building and is preparing the rehabilitation of the historical monument near the Government headquarters. Not far from this landmark, in Piaţa Romană area, works are being done for three large office projects. The most valuable is The Landmark complex.
The businessman Dan Cojocaru, one of the shareholders of the architecture company Proiect Bucureşti, associated with Michael Hadjipavloufor the construction of this three buildings complex. The entrepreneurs intend to develop all three buildings at the same time, in order to put them on the market in the beginning of next year. (source: capital.ro)