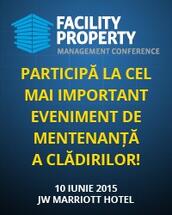 The event includes a day of intensive conferences which will offer a large perspective on regional and local tendencies this industry faces, bringing in discussion the positive signals and the challenges brought by the global and regional economic environment to this field, together with a number of subjects of interest for the representatives in the FPM area.
The conference will bring together international and local specialists, experts and practitioners in the facility and property management industry, offering the participants practical examples and case studies.
Special guest, Alexi Marmot (Professor of Facility and Environment Management, UCL Institute for Environmental Design and Engineering The Bartlett Faculty of the Built Environment UCL) will attend the conference in order to speak about the problem of the sustainability integration in the FPM industry.
During the event, the participants will have the occasion to find out about the opportunities and news for the industry, new regulations in the field and last trends able to influences decisively the business, as well as the possibility to analyze the performance compared to the best players in the industry.
On the background of a dynamic evolution of the business and also of the technological environment, the property managers and the professionals in the "facility management" field are always facing the challenge of alignment of the assets they are in charge of (buildings, working spaces, equipements, furniture, fleet) with the strategy of the organization they are part of.
Those services involve considerable costs and have a significant impact over the productivity, safety and employees satisfaction, as well as over the environment. Therefore, it is absolutely necessary that the facility managers and all persons involved in this field to understand and to deepen the specific of the Romanian market.
The speakers of the event include well-known specialists in the industry such as: Tudor Trita (Managing Director, ARCHIBUS Solution Center Romania), Richard Mocko (President, ROFMA), Duglas Papanicu (Middle East Facility Manager, Autodesk), Paul Constantin Dragoiu (CEO-Director General Building Support Services), Ilie Almajan (Division Manager Reiwag Facility Services), Tiberiu Teleanu (Head of Facility Management Department, BCR - RealEstate Management), Silviu Vata (Consultant Independent), Eugen Ion (Consultant Independent FM), Razvan Jiga (Property and Building Management, CA Immo Real Estate), Geyer Ehrenberg Szilveszter Zolton (BS Sales Engineer Arad, GRUNDFOS Pompe Romania), Marcia Taiachin (Head of Investments and Performance Management, Services Unit, Enel Servicii Comune).
More details on the approached subjects, speakers and attendance on www.facilityconference.ro.