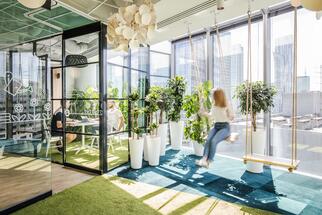 These are the main featrures according to the request made by the current customers of ESOP Consulting real estate agency.
1. Locations not only accessible, but "vibrant".
If accessibility has always been a fundamental criterion in the choice of office, and in Bucharest this was represented by the proximity to a metro station, in 2019, the criterion of "location, location, location" has to meet the higher requirements of the new generations. In addition to its great accessibility, it has to offer a business pole of the city, a vibrant "lifestyle" and facilities. This is the reason why the districts with a shopping center in the vicinity are most successful.
"Most real estate developments with Class A and B + office spaces that will be in use in 2019 have LEED, BREEAM or WELL quality certifications and meet the claims of employees of any major company. Bucharest office standards have steadily grown in recent years, in 2018 and 2019 already speaking of wellbeing facilities, electric vehicle charging stations, biometric access, new facilities on the Western markets too. We believe that in the future, the battle between owners will also be given to the image that the office buildings create, which will determine their long-term care of them, which will be a real benefit for tenants", considers Mirela Raicu, Coordinator of Corporate Office division within ESOP.
2. Emphasis is placed on branding. In 2019, more than two times more office space will be delivered than in 2018, and competition will speak.
The winners will be the office buildings with their own brand, which add to the image of tenant companies and promise communities. This branding of office buildings evolves in two major directions: the so-called landmark, large, imposing office buildings that are known to be noted in the offer crowd, which are landmarks in an area or market segment, are searched for and have many facilities and services (mobile applications, car sharing, restaurants, canteens, cafes, dry cleaners, charging stations for electric cars, etc.) and small boutiques with a premium location in ultra-central areas , near embassies or prestigious educational institutions and have excellent finishing quality.

3. Sustainable development opens a new chapter: besides "GREEN", "WELL" appears. Most of the newly delivered projects are certified by BREAM (British Standard) or LEED (American Standard) and, more recently, just four years after its launch at international level, Romania also astarts applying the WELL certification, through the Campus 6 project.
As healthcare is very important to new generation of employees, companies have put their wishes on this list, with WELL, LEED or BREEAM certified office buildings being valued, with a sustainable work environment that focuses on the health of the employee and the improvement of his life - abundant natural light at the workstation, hanging gardens, interior spaces with natural plants, green vertical gardens, but also exterior landscaped spaces, bicycle parking, sports halls, interior fittings with natural materials - wood, stone, etc.
Among the projects certified to high green building standards that will deliver new office space in 2019-2020 include Timpuri Noi Square, The Bridge, Equilibrium, Business Garden Bucharest, AFI Tech Park.
4. Office space becomes more "playful", more informal. Meeting and reception rooms will continue to be reinvented, more and more unconventional spaces will appear to reinforce the community spirit inside office buildings.
International designers bet in 2019 on meeting rooms such as comfortable cafes, with furniture in shapes, colors and natural textures, with large pillows instead of chairs, equipped with coffee machines, tea supplies, etc.
5.Technology connects more and more both the spaces and the people that occupy them. Technology is here to stay and enter more and more into daily office routine, from access to the building to control of heat, air conditioning, light, and even the reservation of work space. meeting rooms or underground parking.
Access to the office will be easier for employees, with more and more mobile phone use. (source: Esop)