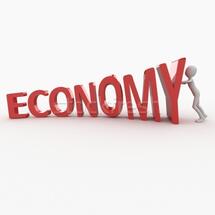 The consumer price index (CPI) was 0.9pct lower YOY in December 2015, and the harmonised index of consumer prices (HICP) 0.7pct lower.
The National Bank of Romania (BNR, the central bank) had estimated early in 2015 an annual inflation of 2.2pct; it successively revised it downwards to minus 0.7 pct in November, as the value-added tax on food was cut in June from 24pct to 9pct, among other fiscal measures taken by the government.
The end-year inflation was below the minimum of the BNR target interval for the second year in a row.
Inflation in Romania peaked at 295.5 pct in 1993, then declined to 27.8pct in 1995, before climbing back to 156.9pct in 1996. The trend was almost continuously negative ever since, and stayed in the one-digit range since 2004.
The BNR estimate for 2016, issued in November 2015, was 1.1pct, revised upwards from 0.7pct forecast in August. The annual target of the central bank is still 2.5pct, plus/minus one percentage points. (source: actmedia.eu)