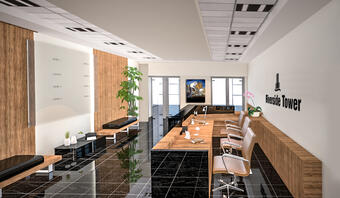 Tenants are looking for new buildings with modern air conditionning systems, energy and maintenance-efficient, with green spaces, and comfort-enhancing facilities. Buildings older than 10-15 years, which have undergone several rental cycles, need investment to keep up with the new office buildings that are now being delivered and therefore modernization work is needed and is being done with new materials, both in the reception areas and in the spaces for renting. So far these examples are few.
"Large office owners have opened the door to the renovation after 10-15 years of existence for a building and it is recommended that owners of medium-sized buildings consider such investments in a growing competition market.
54% of office buildings more than 10 years old and vacant or to be vacant have access to the subway and would be more likely to compete with new buildings if they would benefit from modernization work, if the reception areas would have an aesthetic upgrade and interior space would be remodeled and incentives for employees' productivity added, such as relaxation, fitness, restaurants or mini-lounges with coffe points and snacks", says Alexandru Petrescu, Managing Partner at ESOP Consulting l CORFAC International.

Entering the Floreasca Tower office building, located close to Aviatiei metro station, one can see that the investment in renovating it was a good decision, at this time being 100% leased. Employees working in Floreasca Tower enjoy many of the facilities of neighboring office buildings in the most busy business district in Bucharest, with reception and common areas with state-of-the-art design and materials, a City Grill restaurant and cafe in the ground floor.
Other buildings renovated in the same manner are Riverside Tower and Biharia Offices, which have recently undergone modernization works.

Among the improvements currently taking place in Bucharest office buildings are the remodeling of reception areas and other common spaces, the refurbishment of sanitary groups, networking areas (also integrated outside the building, in green spaces), as well as bringing various complementary functions (cafeteria and gyms), all designed to energize and enhance the spirit of communication in the building.
One of the most interesting qualitative upgrades has been made by the IMMOFINANZ group, which has integrated into two of its previously built buildings its new concept of office buildings, myhive. The concept integrates welcoming and lively reception areas and aims to create a community in the building, including organizing events.
In Germany, a similar study shows that 73% of employees believe that the office would need real transformation and the majority would like to have open spaces but with more functions so they can allow teamwork and work individually when appropriate, according to a study by Gensler architecture, design and planning company.
Their recommendations include investing in specific methods that make open offices work, such as noise reduction, the creation of a dynamic ecosystem and more modules for workplaces, promoting connection and collaboration, as well as investments in virtual collaboration technology. (source: ESOP)