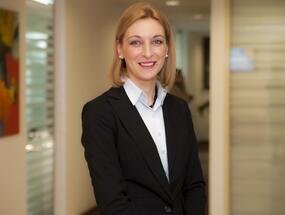 The most productive people are those who are active, those who do not wait for the success but who will try to reach it. This is the depicted result of a global study conducted by Regus in 2015, which covered over 44,000 employees in 100 countries. An impressive number of 67% of the senior managers who answered the survey encouraged flexible work and agreed that this way of working is productive.
Ramona Iacob, Country Manager Romania for Regus, kindly shared with us some valuable insights from this market segment in ascension and her opinions on the future of this industry.
How and when did your business start, how was it influenced by the office market at that particular time?
Regus business has started many years ago in Belgium in 1989, more exactly in Brussels. During a trip visit, an English entrepreneur, Mark Dixon, noted the lack of office space available to travelling business people; they were often forced to work from hotels. He identified a need for office space that was maintained, staffed, and available for companies to use on a flexible basis and went on to found his first business centre in Brussels, Belgium.
In Romania, Regus entered the market through a franchise in 1998 and now has 6 business locations opened in Bucharest: in World Trade Center, on 169 A Calea Floreasca, in Floreasca Business Park, on 17 CA Rosetti St., in Charles des Gaulle Plaza, on Dimitrie Pompeiu Blvd. within Hermes Campus and on Tudor Vladimirescu St., in Green Gate Building.
What are the advantages and disadvantages of the instant offices on the current Romanian market?
The advantages are multiple. First, you do not invest anything, you just bring your laptop and start working in your office. You can start right away and you can choose the size of office you wish (from 1 person office to 50… up to your business).
Second, is the flexibility of the contract duration (you can have an office for one day or long term from one month to 24 months contract, based on your needs), as well as the flexibility  of the services provided (that can be included in the office package or used as you need to/when you need it to).
Another advantage is the ''all inclusive'' concept: from furniture to administrative support of our reception people team, that will be as an extension of your team, to access to  internet/telecom infrastructure, scanning/printing area fully maintained by our staff… access to meeting rooms, kitchen, business lounge, all fully equipped, furnished and maintain by Regus.
Only with Regus you can have a real network: six locations in Bucharest, suitable for all your needs and more than 2300 locations worldwide (in 900 cities).
You can also add the services variety: an office can be for some people a long term place where they come to work daily… while for others an office is a point where they stop for 2-3 hours to just make some offers, some admin work. Here we come with our concept of different products: business lounges with access for quick work (the so called hubs), co working areas where you can have your dedicated 24 h desk, private offices, virtual offices, day offices etc.
What makes you different from your competitors? What are your strongest values and services?
In this market it is room for everyone, we do not mind if we have competitors, this is actually making us improve even more our services. First of all, what recommends us are the 26 years of experience in serviced offices and the real network Regus has created through the world. This should say a lot about what we do. Then, it is the quality of the services we provide, the locations (top building locations) we choose, the variety of the services and the real support we offer to our clients, as we have dedicated teams in place for that.
I will also underline the facilities our clients can have through Regus suppliers and the benefits they can get as well (special offers, discounts etc). Having many locations, creating a network, this offers our customers a large flexibility. They can have one contract (local one) and open or operate business in all countries they wish, as Regus is present today almost everywhere. They can access complementary our business lounges worldwide if they are our office customers and many other advantages that a client can have using a Regus network or service.
Could you make a profile of your clients?
Our clients are  not different from any others… we have clients coming from all types of businesses, from small to large companies, from local to multinational companies… we serve  daily over one million customers worldwide. But probably all of them have in common one thing:  they want to be productive, flexible and have everything ready and prepared for their work.
What is trending in the office market at the moment in your opinion, both locally and internationally?
The future of work starts to be different. We believe in couple of years from now on the traditional office will be less and less used. People start already looking more into flexible solutions that allow them (both individuals and companies) to work however, wherever and whenever they need to.
Romania, as the rest of the countries is aligning to the global trend. Most likely we will see in the future more co working areas, more business lounges, hubs, more virtual offices than traditional offices. In the end, why not using the money in a different way than spending on rents, furniture etc.? Now technology is helping us work on the move and this means flexibility - exactly the point where we believe Regus creates a difference.
What do you think are the main changes in the tenant sector? How the needs of the tenants are changing?
Our overall economy is shifting toward small businesses, where there is net growth, resulting in increased demand for flexible office space. This means that tenants will have a different demand and building owners will have to align with it. I think there will be a shift in the future from large office spaces need into smaller/ different/ flexible office space need. For sure some industries will keep large conventional spaces based on their needs, but mentality is changing dictated by the technology and the way we work and how we are more productive... and we will need to adapt with what the future is bringing. I see the office market completely different also in Romania – co working areas will become popular, people are looking more and more after different office types, sizes, locations...
How do you find the relationship between landlord and tenant in Romania?
Today this relationship is straight forward: landlords rent the spaces, they prefer long term agreement with fixed rents; as long as you are serious and willing to pay in time there is no problem. It is true that comparing with other years we have encountered a more relaxed and   flexible approach. Now landlords are filling to contribute more to capex investments and also open to offer better incentives. This is normal, I would say, considering the office market has increased a lot. A class buildings have a big competition. Look a bit in the last years at what rents Landlords were asking in A class buildings and what they get today... plus that the B class buildings must keep up and compensate the building quality with extra facilities, incentives.
Romania is lucky again nowadays because in A class buildings there are still large corporations who have set here the base: meaning telecom, IT, consultancy companies. This has helped the market to pick up in Bucharest and not only. Other cities are aligned too, like Cluj, Iasi, Timisoara, Brasov etc. But we need to keep in mind that a market is not based only on large companies. We need to have a mix and every landlord is trying to get this mix and not to risk an empty building once a large corporation is leaving the premises.
How would you evaluate 2015 in terms of your business?
2015 has been a good year locally and also worldwide, as Regus has grown the business. Locally we have grown it by adding more than 50% in our local inventory, though the new locations we have opened in Bucharest (Regus Green Gate on 22 Tudor Vladimirescu St. and Regus Hermes in Hermes Business Campus, plus an expansion we have done in Regus City Centre location by adding a ground floor and mezzanine and operating now in the entire building from 17 CA Rosetti St.) and now we are preparing for 2016 growth and not only.
What is your next project on the local office market?
There is more than one project in the development plan we have for Romania to be honest and I hope pretty soon we go outside Bucharest as well. We are working very intensively on that.
What are your predictions for the office market in Romania on medium and long term, in particular how do you think the instant office business will evolve?
From Regus perspective, as said before, the market is in a constant change and we are already ready and prepared for it through our product diversity. We are working on our growth plan   for this year and future years as well and this includes also bringing into the market the newest Regus products. You will see pretty soon different Regus concepts that will create an even larger diversity and flexibility, and basically our scope is to be able to serve every single business need: from local businesses and one person business to people of the move (sales forces for example) and large companies we already have as customers.
What I would underline is something very simple: when you develop and grow the business worldwide or on local market you become more and more local and you need to adapt your products and services to the local needs and this is what we are doing every day at Regus: make sure we work out our best solutions, have a variety of locations, office types, sizes and  different other products that can fit all needs (business lounges, co working areas,  virtual offices, day offices, meeting rooms, videoconferencing etc).